INAUGURATION | MISTER TWARDOWSKI. THE FAIRYTALE - ANNIVERSARY BALLET GALA
22 July 2019, Krakowski Teatr Variete, 19.00
The 20th edition of the 'Cracovia Danza' Court Dance Festival will be officially inaugurated during the anniversary gala in Krakowski Teatr Variete. Celebrating almost two decades of the Festival's activity, we will relive the most beautiful memories from the previous editions; we will also make sure to give our thanks to those who have become an important part of its history. A premiere performance of the new production by the Cracovia Danza Ballet Mister Twardowski. The Fairytale, prepared with this year's Festival tagline (Fables, Fairytales and Legends) in mind, will be a sure highlight of the evening.

Tickets - for the special, anniversary price of 20 PLN - available in Krakowski Teatr Variete!

Free admission for the participants of the Krakow Dances! workshops, upon presentation of  the pass received during registration.

Mister Twardowski. The Fairytale is a performance built around the music of Stanis┼éaw Moniuszko which takes the audience for a journey into the world of imagination, magic and humour, but primarily dance. In the first part, Alina TowarnickaÔÇÖs choreography and staging present us the story of the famous Krakow sorcerer, his difficulties as he loses faith in his own abilities and the circumstances which prompted him to sign a pact with the devil. The second part, choreographed by Dariusz Brojek, draws from Mistress Twardowska, a ballad by Adam Mickiewicz. When the devil lures Twardowski to the inn and demands his soul, it is the sorcererÔÇÖs wife who saves the day, thus becoming the heroine of the story ÔÇô where Twardowski fails, Twardowska prevails!
Music:
Stanisław Moniuszko
Choreography, staging and stage design:
Alina Towarnicka, Dariusz Brojek
Costumes:
Bo┼╝ena P─Ödziwiatr
Visuals:
Krzysztof Antkowiak
Masks:
Jonathan Fr├Âhlich
Performed by Cracovia Danza Ballet dancers:
Marta Baranowska, Nikoleta Giankaki, Ma┼égorzata Nabrzeska, Zuzanna Ruta, Jan Fe─Źko, Micha┼é K─Öpka, Sebastian Kubacki, ┼üukasz Szki┼é─ůd┼║
***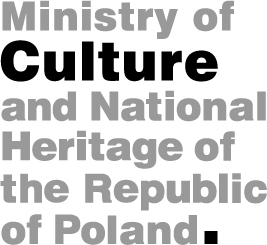 Partial funding provided by Ministry of Culture and National Heritage from Culture Promotion Fund within ÔÇťMoniuszko 2019 ÔÇô PromesaÔÇŁ programme operated by Music and Dance Institute