Armida | Tokio | Hokutopia International Music Festival 2022
December 9th and 11th 2022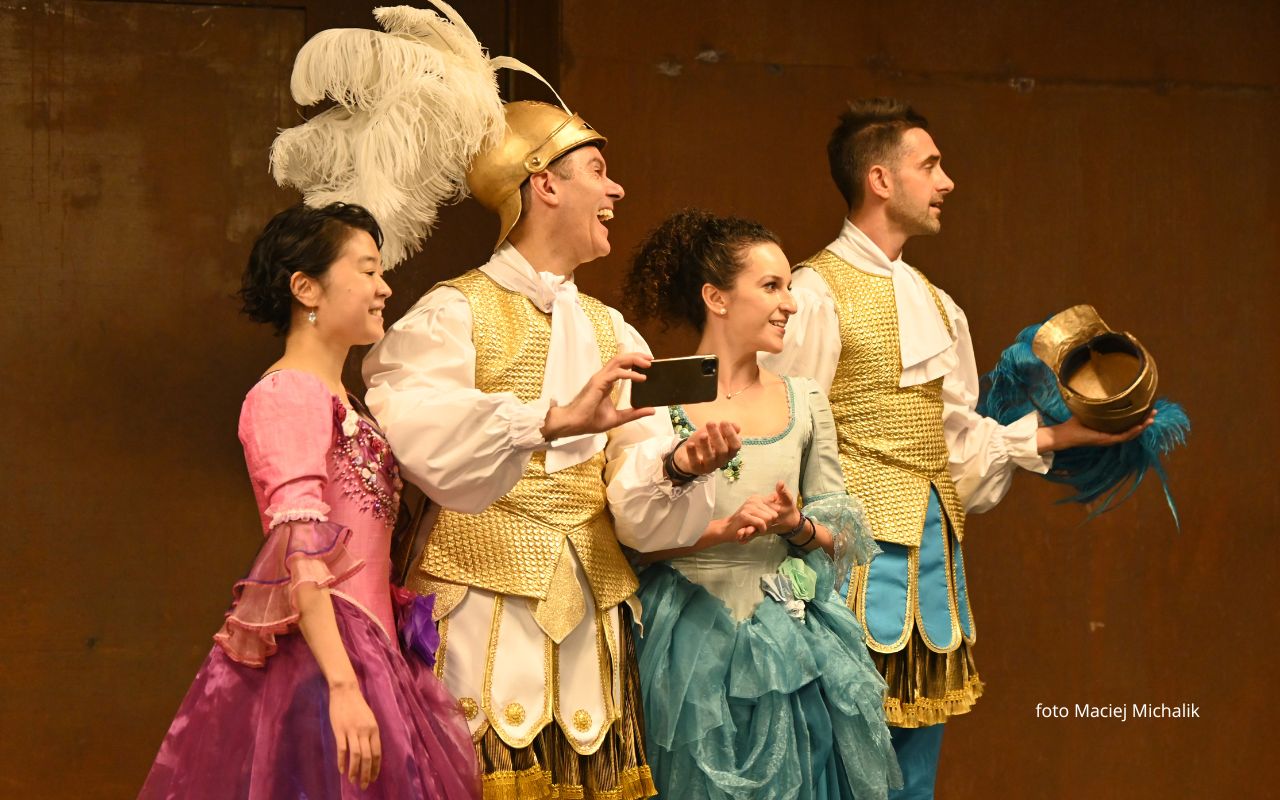 Armida. One Bitter Love Story
"Armida", a five-act musical tragedy, considered as Jean-Baptiste Lully's masterpiece of opera art, will be performed in Japan, with the participation of the Cracovia Danza Court Ballet. The premiere is scheduled for December 9th, and the next performance will take place two days later, on December 11th, 2022.
The performance, directed within the Hokutopia International Music Festival 2022 in Tokyo, is an international Japanese-French-Polish production: conductor and concertmaster: Ryo Terakado; director: Romana Agnel; choreography and dance: Pierre-François Dollé; dancers: Nikoleta Giankaki, Dariusz Brojek, Sarasa Matsumoto.
During the play, one may see the performances of The Japanese Orchestra of Ancient Instruments and the Japanese choir, Les Boréades. Main singing parts are performed by Claire Lefilliâtre (Armide) and Philippe Talbot (Renaud). Their performances are conducted in a semi-concert manner; the artists appear on the stage in costumes, and the orchestra provides musical background for the whole action.
The archetype of this love story between the sorceress Armida and the beautiful knight Rinald was Torquat Tasso's Renaissance epic "Jerusalem Liberated", which has inspired many composers. It is worth to mention such artists as: Christoph Willibald Gluck, Georg Friedrich Haendel and Gioacchino Rossini, however it is the Lylly's opera that is considered a masterpiece years after its creation. The premiere took place in 1686 at the Académie Royal de Musique and was followed by a scandal. Louis XIV, who chose the subject of this opera and who its prologue was dedicated to, did not allow the opera's performance at Versailles. This was his way of punishing the composer for indecent behaviour and publicly demonstrating the composer's disgrace.
The opera was revived at the beginning of the 18th century, several years after Lully's death, and remained in the repertoire for 60 years. Forgotten, it returned to the stage in the 20th century, though occasionally. Its 1992 performance by Philippe Herreweghe, who conducted it at the Antwerp Opera House and at the Theâtre des Champs-Elysées, rekindled interest in this masterpiece.
                                                                            Agnieszka Malatynska-Stankiewicz
Music: Jean-Baptiste Lully
Libretto: Philippe Quinault (Based on Torquato Tasso's La Gerusalemme liberata)
Semi-stage style opera in Prologue and 5 acts
Sung in French with Japanese surtitles
Friday 9 December 2022, 6 pm
Sunday 11 December 2022, 2 pm
Hokutopia, Sakura Hall

Conductor & 1st violin: Ryo Terakado
Director, Choreographer & Baroque dancer: Pierre-François Dollé
Director: Romana Agnel
Orchestra & Choir: Les Boréades (Period-instruments Orchestra) 

Baroque dancers: Nikoleta Giankaki, Dariusz Brojek, Sarasa Matsumoto

Armide: Claire Lefilliâtre
Renaud: Philippe Talbot
Other singers : Mutsumi Hatano, Ayako Yukawa, Kei Yonashiro, Yukihiro Yamamoto,
Yosuke Taniguchi, Katsuhiko Nakashima etc.